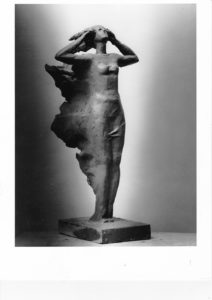 Woman in the wind: a sculpture dedicated to the fate of Soviet women in captivity in Norway. 
Jurij Salnikov has proposed to give a commemorative sculpture to the city Bodø  where he was born. He has made a model of the piece: "Kvinne i Vinden" (Woman in the wind) and he has presented the model and the idea of the actual sculpture to various mayors of Bodø in recent years. We also have a cooperation with the Russian filmmaker, Tamara Sushko, who is making a documentary film about the fate of Russian prisoners of war in Norway during the Nazi occupation. We are in contact with the master foundryman Ivan Dubrovin in Jekaterinburg who has offered to fabricate the bronze sculpture and will also contribute to the installation in Bodø.
Liv Mjelde  have been working with Jurij Salnikov to obtain the cooperation of the municipality of Bodø. In our meeting last September 6th,  2018, the mayor was encouraging and will make a proposal to the city government this current year. If you would lend your support to this projected memorial it might help  bid to get the sculpture accepted.